Biography
Matthew & Karine Maynard are celebrated artists, blacksmiths and architectural designers who use metal and architectural space as their media. They own and operate Maynard Studios Inc, in Lawrenceburg, Kentucky.
Karine has a vocational degree in accounting, received her Bachelor of Science from the University of Wisconsin and attended graduate school at the University of Kentucky for both Art Studio and Art History. Matthew holds degrees in both Welding and Machining from Blue Ridge Technical College near Asheville, North Carolina. In the Fall of 2019 the Maynards lectured at Hereford College in England, to the second and third year blacksmithing students. Previous lectures include 'SBA Success Story' speakers at the Kentucky Small Business Administration Summit in Louisville, KY; Frazier Museum of Louisville, KY; Campbellsville University, KY; Kentucky Arts Council's Creative Industries Summit and the Kentucky Chapter of the American Institute of Architects Conference on Louisville, KY.
Exhibiting since 2017, the Maynard's work has been shown at Museum at the Ohio Craft Museum, Columbus, OH; Vanderbilt University, Nashivlle, TN; Alexandria Museum of Art, Alexandria, LA; Renwick Gallery, Washington DC; Wayne Art Center, Philadelphia, PA; and the Evansville Museum of Art, Evansville, IN; and was featured at the Headley-Whitney Museum of Art in Lexington, Kentucky in the spring of 2022.

Maynard Studios has fulfilled custom commissions across the United States and also work internationally. Corporate commissions include local distilleries Woodford Reserve, Castle & Key, Buffalo Trace, Bulleit Whiskey, Four Roses, Old Forester and Maker's Mark; as well as Apiary Fine Catering of Lexington, KY.; Shadley Associates of Boston, MA; Brown Forman of Louisville, KY; Hermitage Farms of Goshen, KY; Bar Dogwood of San Francisco, CA.; 10th Mountain Whiskey of Vail, CO, Ashbourne Farms, LaGrange, KY, and 21C Museum Hotel of Cincinnati, OH. The Maynards pride themselves in understanding the needs and expectations of their clientele and the market that they serve.
Matthew Maynard is an honored Al Smith Fellow, awarded by the Kentucky Arts Council. The duo has also been honored with 12 Ernest Wiemann Top Job Awards & the 2018 People's Choice award from the National Ornamental and Miscellaneous Metals Association (NOMMA). Karine has also been the recipient of the National Ornamental Metal Museum Research Residency and the Kentucky Arts Council Folk and Traditional Arts Apprenticeship.
They have been featured by the Artist Blacksmith's Association of North America and have been written about in several international books and articles on contemporary blacksmithing in multiple languages. The couple has also received several Citations of Achievement from the Kentucky House of Representatives, and received 5 Best of Houzz Service Awards and 4 Best of Houzz Design awards from Houzz.com.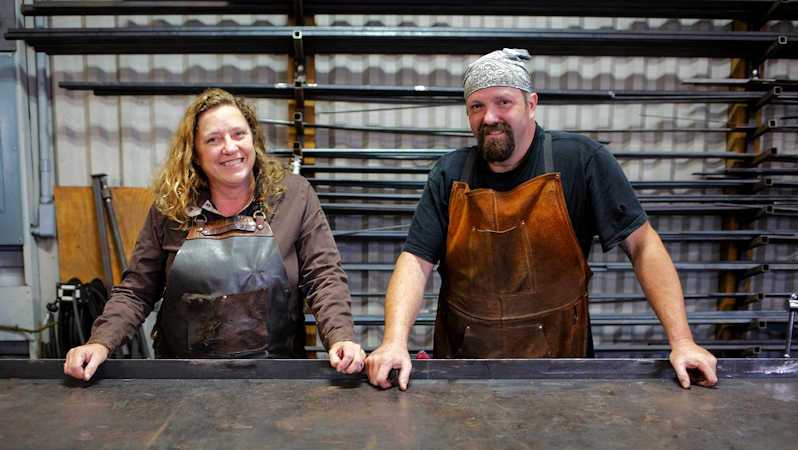 Community Involvement
Since incorporating in 2010, their business has grown significantly. And as they have expanded, the Maynards have donated their used equipment to Josephine Sculpture Park in Frankfort, Ky, to help that nonprofit arts organization grow their metal studio for visiting artists.
The Maynards are also founding members of an international disaster relief non-profit known as Burners Without Borders. They are also founding members of the Anderson County Arts Council which is responsible for facilitating an annual "Travel the Art Trail" event featuring a number of local artists. In 2020 they received the Keeler Volunteer Award from the National Metal Museum in Memphis, TN.
In addition, Karine has been involved in a number Kentucky art organizations, including;
Current Board of Trustees Chair of the NOMMA Education Foundation
Advisor for the Kentucky Art's Council's Peer Advisory Network
Presenter and panelist at the Kentucky Creative Industry Summit and other Kentucky Arts Council events

Member and juror for the Kentucky Arts Council's Architectural Artists Directory

Juried member, juror and former board member of the Kentucky Guild of Artists and Craftsmen

Current board member for the Kentuckians For The Arts
The duo are both honorary Kentucky Colonels, as bestowed by the Governor of Kentucky and many of their products are listed as Kentucky Proud.